User login
Enter your username and password here in order to log in on the website:
Dhamma Dīpa and Dhamma Padhāna office telephone number:
+44 (0)1989 730234
If you have any questions about travelling to the centre, please write to:
[email protected]
Post-Brexit advice when entering the UK
Visa
All nationals of the European Union will not need a visa for tourist trips to the UK of short duration (less than six months). People making short business trips will also be exempt from visa requirements in the UK (simple professional visits, training, conferences, seminars, etc.).
Health insurance
In order to access emergency care in the UK, all those coming from the mainland to the UK will need one of the following: a valid EHIC card, or the new GHIC card, or a provisional replacement certificate (PRC).
Visitors from Norway can access medically necessary healthcare using a valid Norwegian passport.
From 1 January 2021, most visitors from Iceland, Liechtenstein and Switzerland may need to pay for NHS healthcare.
Travel document
Until 1 October 2021, it will still be possible to enter UK territory with a valid identity card or passport. After this date, the identity card will no longer be sufficient to cross the Channel and you will need to have a passport.
Please use the check-list on this link to find out the rules that will apply to your specific situation.
Choose your language:
Travel to Dhamma Padhāna, Herefordshire
If you are travelling to the UK from overseas please read this important information.
Travel to Dhamma Padhana might be affected due to the Covid-19 pandemic. Please refer to your course confirmation letter regarding travel arrangements and make sure you have the latest travel information.
Make sure that the Covid 19 guidelines in your local area will allow you to travel and that you will not be in breach of them by attending a course.
If you are travelling to the course by public transport, please follow government guidance at all times.
The UK government requires those arriving in the UK from certain countries to self-isolate for 14 days after their arrival. This self-isolation cannot be carried out at the meditation centre. If you are planning to arrive in the UK from a country not on the government's exemption list within 14 days of your arrival at the centre, please cancel your application.
Please note, that the centre is currently unable to facilitate lifts from/to the local bus stop Harewood End Inn.

Please choose from the options below for advice on how best to reach us. If you cannot find the answers you need then please contact us on: [email protected]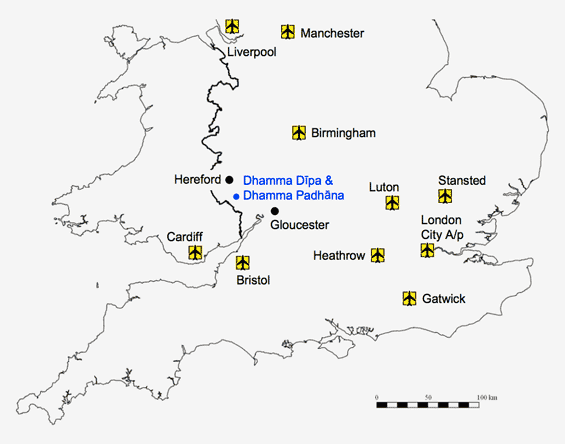 For information about up-to-date requirements in terms of travelling to the UK please see www.gov.uk/uk-border-control/before-you-leave-for-the-uk.
All students are asked to arrive between 2 and 5 pm on the day the course begins. After registration is completed, a light meal and orientation will precede the start of the course.
The course will end at approximately 7:30 am on the last day of the course. All new students, as well as old (returning) students taking a full course, are required to remain until the very end of the course. Part-time old students will not be permitted to leave on metta day, the tenth full day, except in case of emergency or by prior arrangement with the assistant teacher(s).
There are several routes to the centres. All routes will eventually take you either to Ross-on-Wye (7 miles), Hereford (10 miles) or Gloucester (25 miles), the three nearest towns/cities.
The Vipassana Trust organises a direct coach service from Gloucester to Dhamma Dīpa/Dhamma Padhāna on the starting and finishing day of every course. Otherwise you can use a bus or taxi from either city (details below).
‍Travelling from inside the UK
From London, take the M4 to Junction 15 (Swindon), then the A419/A417 to Gloucester.
Join the A40 to Ross-on-Wye but avoid the town centre; instead follow directions to Hereford on the A49.
From the North, take the M5 and M50 to Ross-on-Wye.
From the roundabout west of Ross-on-Wye where the A40 and A49 meet, take the Hereford road.
After about four miles you will reach Harewood End.
Drive through the village and then take the second left turn, which is about one mile further on. It is a slightly concealed turning signed to Pencoyd near the bottom of a small hill. (If you reach the left turn to Hay-on-Wye, B4348, you have gone too far.)
Proceed, ignoring other signs, to Pencoyd and after one mile, at the second crossroads, turn right at the sign for Dhamma Dīpa. (See the map)
There is plenty of car-parking space at the centre.
The best postcode to get you close to the centre is HR2 8NG. You will get the best results with these coordinates: Latitude: 51.937 / Longitude: -2.718 (equivalent to North 51 degrees 56 minutes 2 seconds, West 2 degrees 43 minutes 0 seconds).
Coaches and trains run regularly to Hereford and Gloucester from towns and cities throughout Britain, and some coaches run to Ross-on-Wye. A special onward coach service direct to the meditation centres runs from Gloucester, as described below.
If travelling to Gloucester – coaches should be booked to "Gloucester" rather than "Gloucester (Longlevens)".
From London, there are trains from Paddington station to Hereford either directly or via Newport (3 hours), and from Paddington station to Gloucester either directly or with a change at Swindon (2 hours).
There are arrangements with local taxi companies to offer special rates for people coming to Dhamma Dīpa or Dhamma Padhāna from various points on the journey, long or short-distance.
They will meet people at any UK airport (at Heathrow, for example, for £135), or at the train or bus stations at Gloucester (£50), Ross-on-Wye (£30), Hereford (£20) or other towns such as Bristol, Birmingham or Cardiff.
Taxis should always be booked in advance to avoid an initial delay in the pick-up. The companies have a variety of different-sized vehicles, so if more than one person books a taxi at a similar time of day they will group them together so the cost can be shared.
For more information or to pre-book a taxi contact:
S&R Taxis on +44 (0)1989 566246 / 566100 for taxis to/from Ross-on-Wye and Gloucester
Blue Line Taxis on +44 (0)1432 343435, www.blueline-taxis.co.uk, for taxis to/from Hereford/Gloucester/Ross-on-Wye, other nearby towns and all UK airports. For further information and prices click here.
If you prefer not to share a taxi please notify them at the time of booking.
‍Travelling from outside the UK
‍By air
‍Flying into Birmingham, Bristol and Cardiff Back to top
Airports at Birmingham (BHX), Bristol (BRS) and Cardiff (CWL) are close to the centre and coach/rail connections are available from them to Gloucester or Hereford.
London has five main airports:
Heathrow (LHR, west)
Gatwick (LGW, south)
Stansted (STN, north-east)
Luton (LTN, north)
City (LCY, east/central)
Heathrow is closest and most convenient for Dhamma Dīpa/Dhamma Padhāna.
Flights to Stansted and Luton are usually less expensive, although the extra distance will add a few hours to your journey.
National Express Coaches run regularly between airports.
‍Flying into Liverpool or ManchesterBack to top
Airports at Liverpool (LPL) and Manchester (MAN) have low-cost airline flights from the continent. Rail connections are available to Hereford.
‍Onward travel from the airportsBack to top
‍From Birmingham, Bristol and Cardiff airportsBack to top
National Express Coaches offer services from these smaller airports to Gloucester. Go to the National Express Coaches website to find coach times.
Birmingham airport has its own railway station – Birmingham International station – from which you can catch a train to Gloucester or Hereford. You may need to change at Birmingham New Street.
From Bristol airport there is a coach to Bristol Temple Meads railway station from where there are regular trains to Gloucester.
Cardiff airport: a rail link connects Rhoose Cardiff airport station to Cardiff Central station. There are regular trains from Cardiff Central to Hereford and Gloucester. For further information about trains, see the National Rail Enquiries website.
‍Coach from the London airportsBack to top
The simplest and cheapest way to get to Dhamma Dīpa/Dhamma Padhāna from London Heathrow is by coach. Coaches run from other London airports to Heathrow, at least once an hour. See the National Express for coach times to Gloucester.
Please note: a return ticket only costs a little more than a single, and considerably less than a single each way.
Heathrow Central Bus station is located between Terminals 1, 2 and 3 and above the Underground railway station. To get there from Terminal 4 and Terminal 5 there are free rail services called Heathrow Express and TfL Rail (formerly Heathrow Connect).
‍Trains from Liverpool and Manchester airportsBack to top
Both airports have local stations with single-change rail services to Hereford. There is a good service back from Hereford to Liverpool airport on a Sunday morning.
For further information about trains, see National Rail Enquiries.
Eurostar trains from Paris, Lille and Brussels arrive in London at St Pancras International station.
From central London, trains travel from Paddington to Gloucester or Hereford (see National Rail Enquiries). The Circle line of the Underground (the Tube) connects St Pancras to Paddington.
Alternatively, from Victoria coach station you can catch a National Express coach to Gloucester or Ross-on-Wye, or one of the cheap services offered by Megabus between Victoria coach station and Gloucester.
To get from St Pancras to Victoria coach station, take the Underground (Victoria line) to Victoria railway station. Note that the coach station is about ten minutes' walk south of the railway station along Buckingham Palace Road.
It is sometimes possible to get a lift by car with other students.
For the return journey to Gloucester, Ross-on-Wye, Hereford or Heathrow after your course, you can also share a local taxi with other people at a preferential rate at a different time. More information will be put up on the last day of the course, so you will be able to make arrangements then.
Public transport for courses ending Monday–Saturday is reasonably good. Local buses run from the Harewood End Inn bus stop to Hereford and Gloucester.
On Sundays public transport is poor, with local buses not starting until the end of the morning. For the times of coaches to Heathrow leaving from Gloucester, visit National Express.
+44 (0) 800 9177377 (free from phone box)
For general use:
+44 (0)1989 730234
If you have any questions about travelling to the centre, please email:
[email protected]
Info for Dhamma Dīpa or Dhamma Padhāna.
Coaches
National Express
Megabus
Trains
National Rail Enquiries + 44 (0)8457 48 49 50
Train Line +44 (0)871 244 1545
Local Buses (32 & 33)
Timetable / +44 (0)1432 260211
Taxis
S&R Taxis (for Gloucester and Ross-on-Wye):
+44 (0)1989 566246 / 566100
Blue Line Taxis (for Hereford and UK Airports):
+44 (0)1432 343435
www.blueline-taxis.co.uk